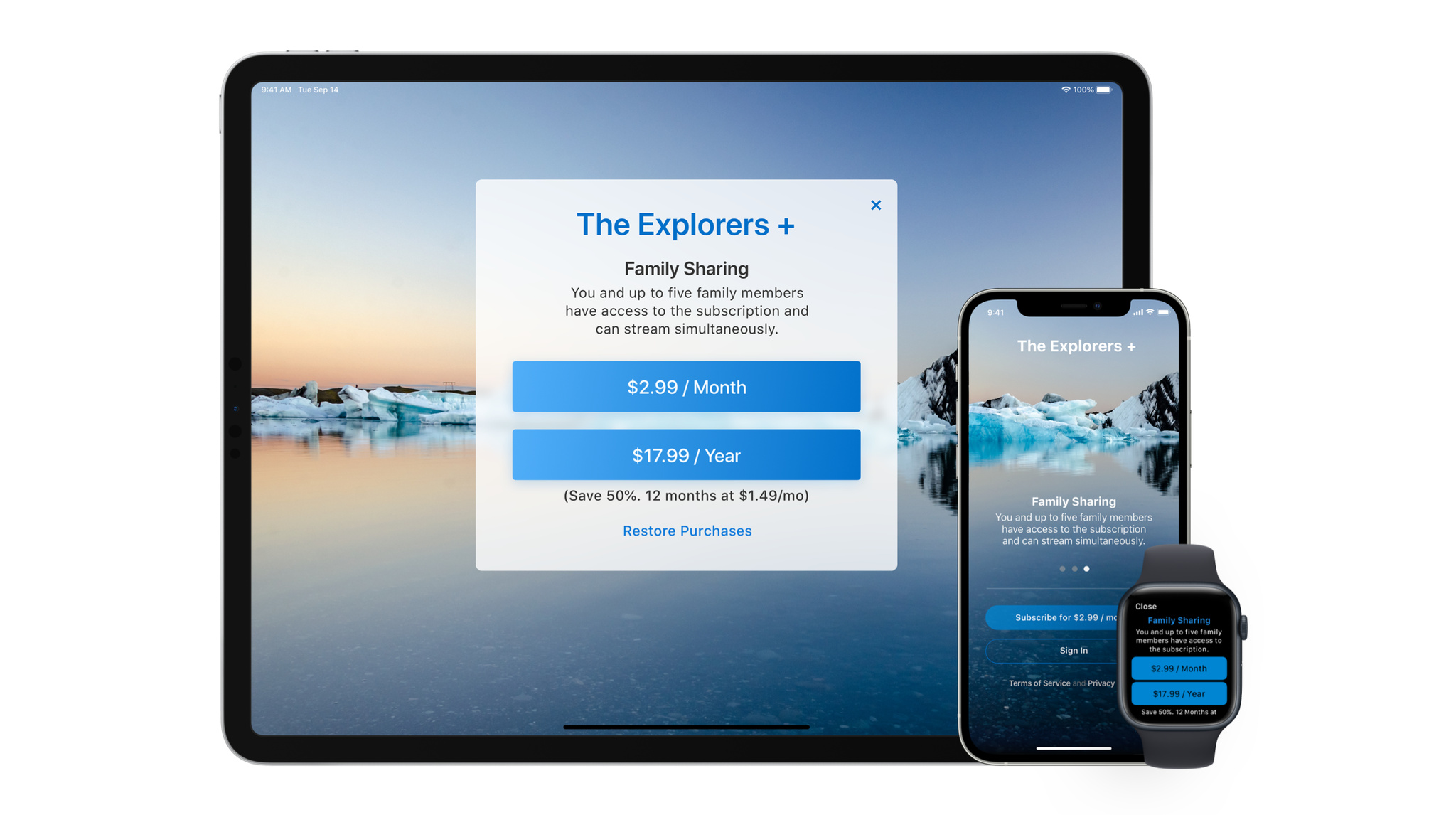 Family Sharing helps people share access to eligible auto-renewable subscriptions with up to five iCloud family members across their Apple devices. You can enable Family Sharing for your subscriptions to grow your subscription business, encourage paid memberships, and improve subscriber retention. Learn how you can set up Family Sharing for your subscriptions and discover some of the benefits of opting into this feature.
How to enable Family Sharing for your subscriptions
You can turn on Family Sharing for your subscription in App Store Connect. You can enable this feature on a per-subscription basis, and support either new or existing subscriptions. Please note that once you enable Family Sharing for a subscription, you won't be able to turn this feature off.
Go to App Store Connect.
From the My Apps section, select your app.
Select In-App Purchases and pick the Manage option.
Select the auto-renewable subscription you'd like to enable Family Sharing for.
Click or tap "Turn On."
To verify the purchase and provide access to subscribers and their family, make sure to perform purchase validation. If you choose to offer Family Sharing as a higher level of service, be sure to rank this subscription in the same level as the individual subscription in App Store Connect so customers can upgrade if they wish.
Leveraging server to server receipt validation
Explore default sharing behavior
Whether a Family Sharing-enabled subscription is shared automatically with a purchaser's family depends on their subscription sharing settings and whether the subscription was purchased before or after you enabled Family Sharing.
By default, customers are opted in to share eligible new subscriptions with their family, and they can go to the Manage Subscriptions page under their App Store account or Apple ID settings to opt out at any time. To ensure user privacy, existing subscriptions that were purchased before Family Sharing was enabled are not shared by default.
Subscribers who don't share their subscription by default will receive a push notification from Apple that their subscription can be shared with their Family Sharing members. This notification links to the Manage Subscriptions page, where subscribers can choose to share the subscription with their family group.
Highlight Family Sharing subscriptions in your app
To help people make a selection that best fits their needs, there are several different ways you can merchandise Family Sharing within your app.
Promote Family Sharing pre-purchase. When crafting a signup screen for your subscription, we recommend highlighting that Family Sharing is an included benefit. If you offer multiple subscription options including a higher-priced option that includes Family Sharing, consider noting this on your signup screen along with the incremental cost increase, so customers can distinguish their options.
Highlight the feature for existing subscribers. As a reminder, even if a subscription supports Family Sharing, it may not be shared by default depending on someone's subscription sharing settings and whether they purchased the subscription prior to Family Sharing being enabled in App Store Connect. You can remind subscribers of this functionality — for example, as part of onboarding for new purchasers, or for existing subscribers via an in-app message — in order to help build awareness and encourage sharing. Consider including instructions on how they can make sure they've turned on Family Sharing for your subscription.
Offer Family Sharing as an upgrade. You can display in-app messaging to existing individual subscribers to let them know a subscription with Family Sharing is available and encourage them to upgrade. This can help customers upgrade their subscription without leaving your app. Be sure you've ranked the updated subscriptions within the same subscription level in App Store Connect to provide a smooth upgrade path.
You might also indicate that Family Sharing is available by including it in the subscription's display name. This makes it easy for people to distinguish if a subscription offers this functionality when viewing their subscription options and managing their subscription.
Build awareness with family members. You can provide custom messaging within your app depending on who purchased the subscription. Use ownershipType to identify whether you're providing information to the purchaser or another family member. For example, during onboarding you might ask the purchaser to verify their Family Sharing settings as well as provide opportunities for them to share the app through a share extension.
Resources
Learn more about Family Sharing subscriptions
Learn more about designing subscriptions
Powered by WPeMatico