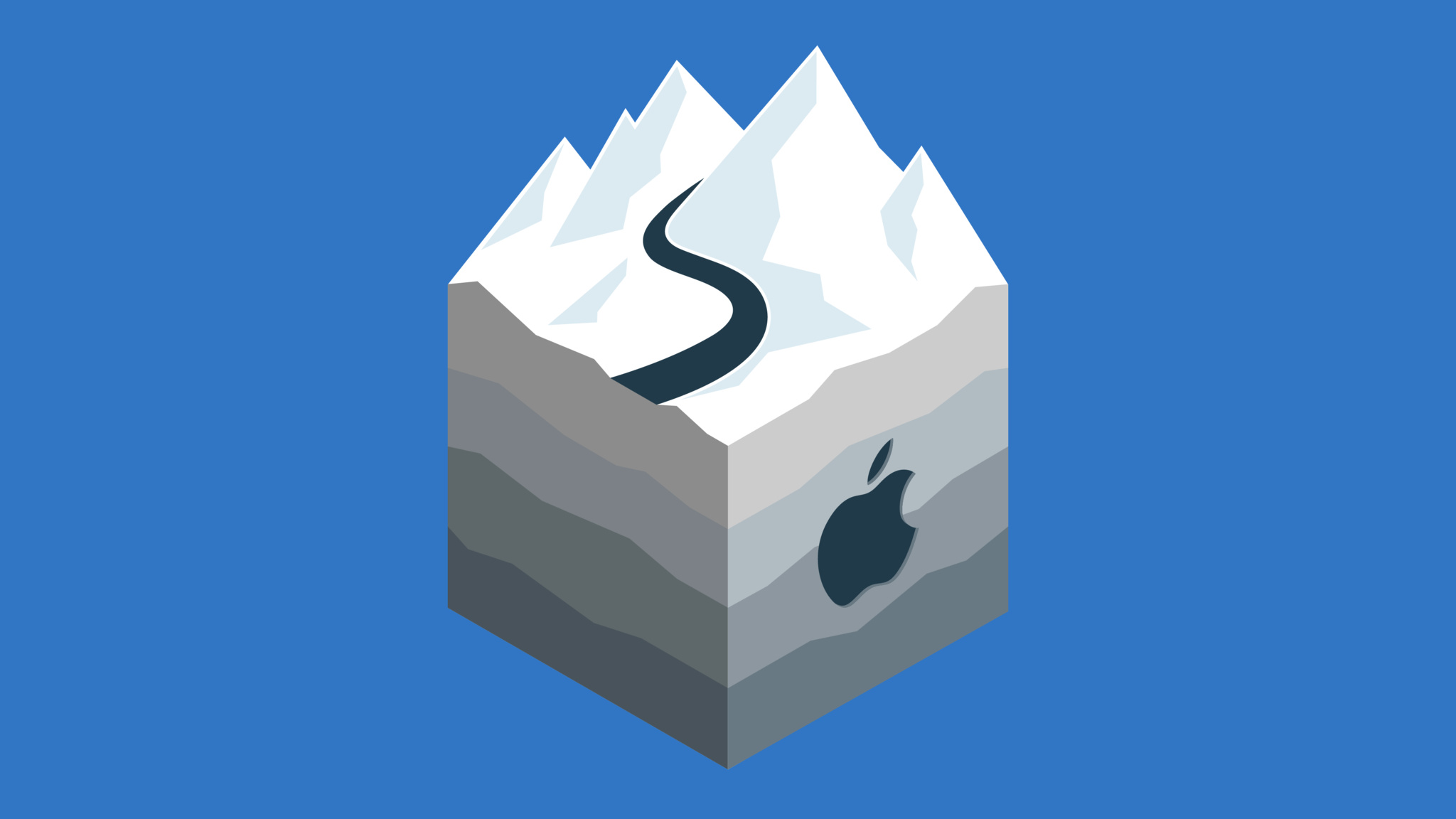 It is a demonstrable fact of app development that most great ideas arrive in late-night diners.
At least, that's how it went for Curtis Herbert — creator and mastermind behind the ski-tracking app Slopes. One evening during a winter trip to the Poconos, Herbert and some friends hit up a Denny's for a late-night feast, where talk quickly turned to the day's activities: Who was the fastest on the mountain? Who had the longest run? How far did the group ski in total?
In response to one of the questions, Herbert pulled out the skiing app he'd been using to track stats — and found the UX equivalent of a yard sale. The stats were there, but buried amidst graphs and maps; to find enough data to compare (and brag about, probably), Herbert had to cross-reference three screens and a table view.
"It was really well-engineered, but the UX left a lot to be desired," says Herbert from his elevation-appropriate home in Boulder, Colorado. "They clearly had skiers on the team, but it felt like something got lost in translation… I thought, 'You know, I can do better than this.'"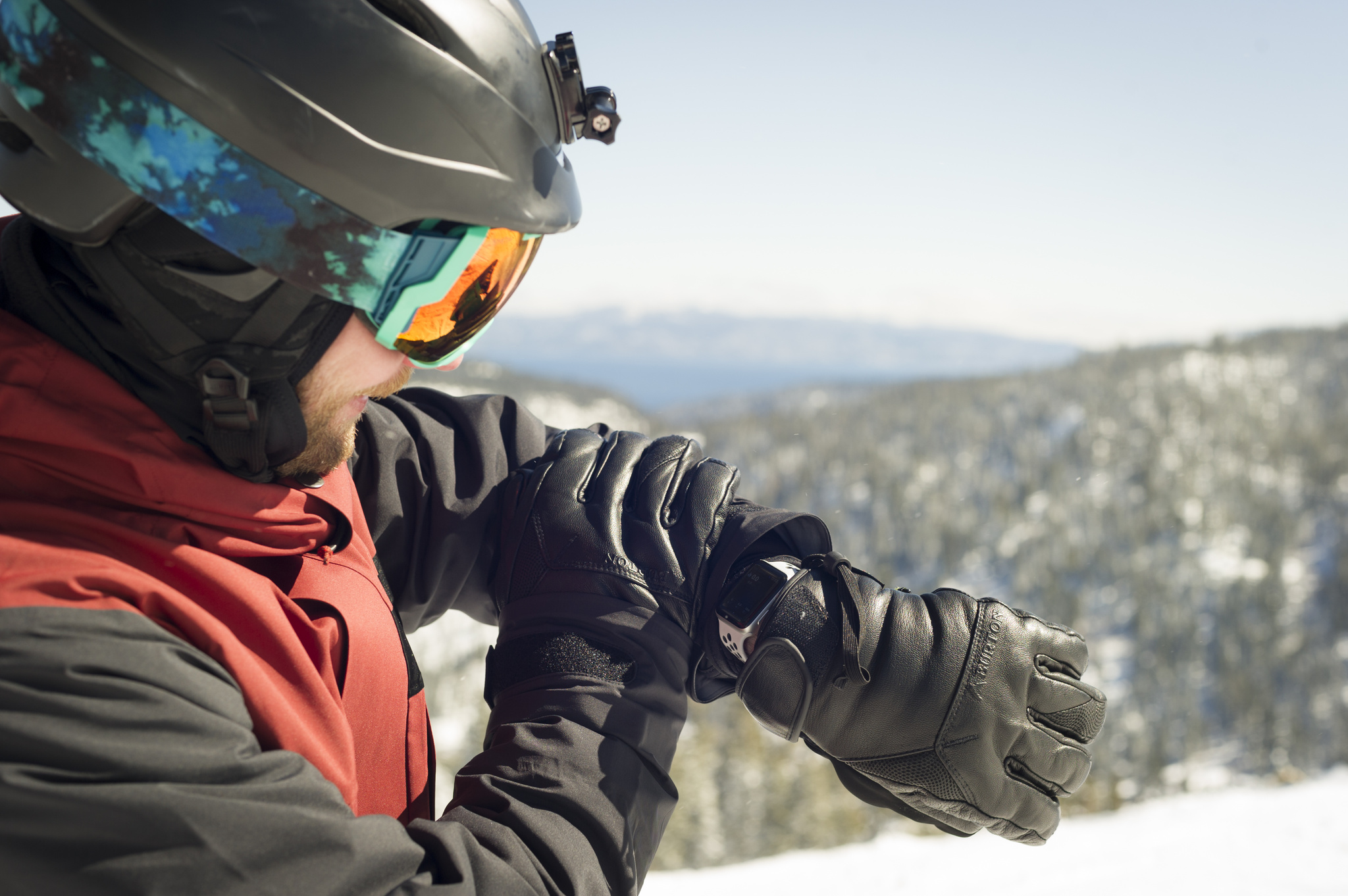 Herbert made good on his thought — and ten years of ski runs and late-night meals later, Slopes won an Apple Design Award for its remarkably accurate and comprehensive digital diary of your skiing day. The tracking app is a veritable mountain of data for skiers and snowboarders. It includes all the stats Herbert was seeking out over dinner: speeds, miles, and vertical drops, as well as the locations of your friends and family members on the mountain during runs. It's all done automatically using GPS on iPhone and Apple Watch, and it's presented in a crisp, concise design that speaks to the sport.
"Runners have Runkeeper, Nike Training Club, and Strava for keeping stats, but when I started, there just wasn't much for skiers," says Herbert. "There was even less that felt part of the skiing community. I needed an app written by a skiier or snowboarder. And I wanted it to feel as human as possible."
That human factor is part of what helps elevate Slopes beyond simple stat tracking. Rather, the app affords skiers of all levels — from beginners on their inaugural bunny slopes to the human rockets on double black diamonds — a way to quantitatively gauge themselves via rich performance metrics. Or, to put it simply: It tells you how much better you're getting.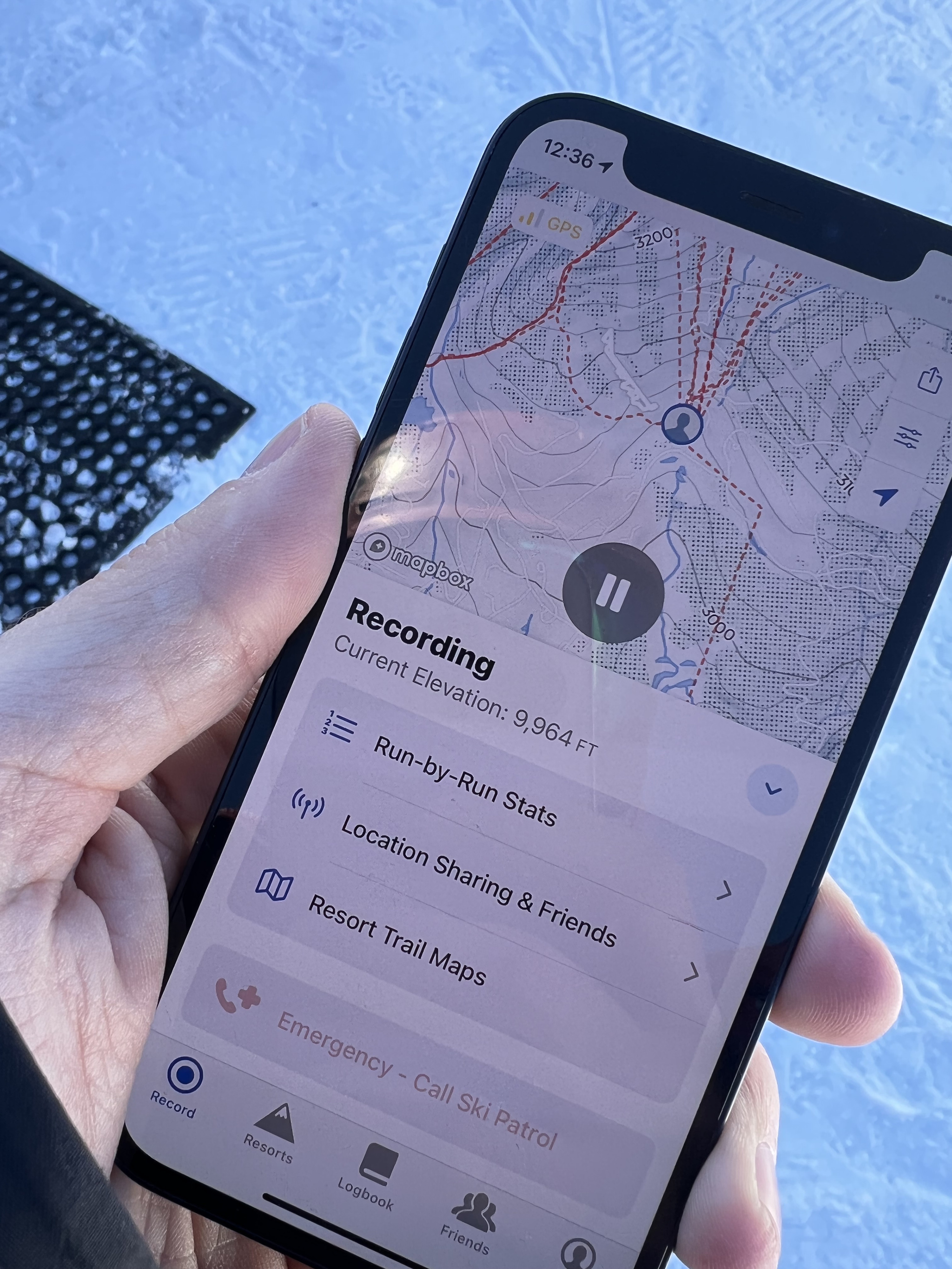 "It's really easy to overwhelm with stats," says Herbert, who's known as "The Slopes Guy" on the mountain. (Meeting him IRL is an in-app achievement that scores you a special pin.) "You really have to pick what matters to tell the story. I designed Slopes to be as human as possible because I view it as a journal for your memories. Sure, you're gonna faceplant a few times. But when you get to your first intermediate run, and then to your first advanced run, you become the hero of your own story."
'You can tune out the world'
The story of Slopes involves several regions that aren't mountainous and several seasons that aren't winter. Herbert hails from the suburbs of Philadelphia, an area not exactly known for its soaring mountain ranges. Strictly speaking, he was a programmer before he was a skier. ("My seventh-grade math teacher gave me a programmable TI calculator because she was annoyed me with interrupting class all the time," he laughs). But he's been on the mountains since he was a Boy Scout, first on skis and then on a snowboard. "You can reach a real Zen state out there," he says. "You're paying attention to your body. You're paying attention to the environment. You can be reflective and tune out the world."
On flat land, Herbert found his way into web development and then app design, taking quickly to Objective-C and Swift. He knocked around corporate and consulting work and kicked around a few of his own ideas, but nothing really clicked. "I always had the itch to write my own app, but I figured it would never be worth it," he says. "Plus, I'm pretty critical of my own ideas."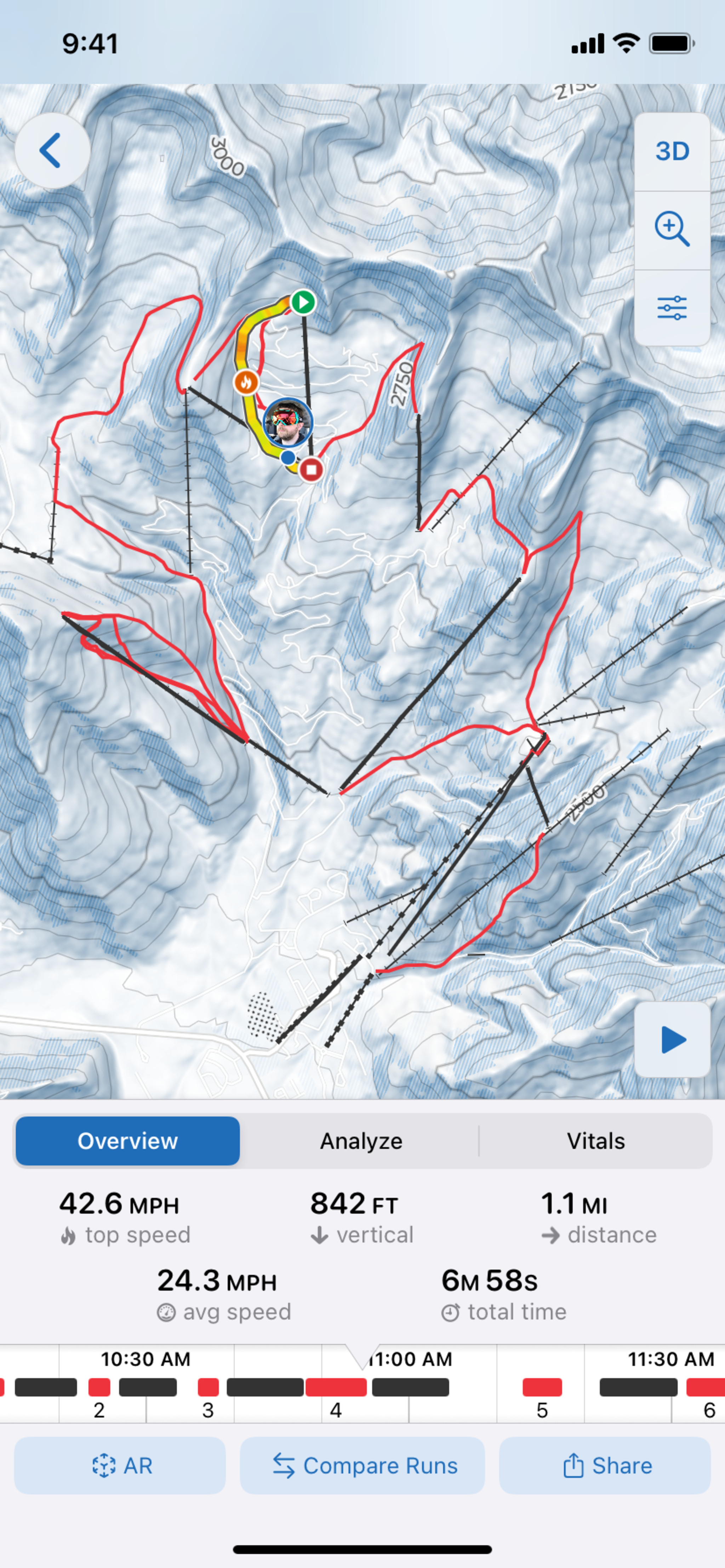 Even after the Poconos diner, Herbert sat on Slopes for months, drawn to the idea but unsure how to make it profitable. He finally took the plunge in April 2013, but quickly encountered a significant scheduling issue: There's not usually a lot of snow on the mountain in April, which makes it difficult to test skiing apps. Happily, a workaround presented itself. "My beta testers were mountain bikers," Herbert says. "Resorts open up to them in the summers, so I just asked a couple of friends, "Hey, can you keep a phone in your pocket while you ride?" Herbert's ad-hoc beta testing team hauled their bikes up on the lifts, then rode them down the pathways of the once-and-future ski runs. "One of the first things I did was write a harness where I could replay data on my computer," he says. "Then it was: How do I break it up? How do I present it?"
The app remained a side hustle until 2015, when Herbert switched to a subscription model and started noticing downloads picking up. Spurred by the new traction, Herbert made Slopes his full-time job — and dug back into the design. "I've put the app through the wringer," he says. "I need to make sure it's easy to use in the real world, not just at my desk."
'I get to cheat'
Creating designs for your hobby can be a huge time-saver.
"I get to a cheat a little because I'm the snowboarder, designer, developer, and product manager," Herbert says. "Snowboarders or skiers might not necessarily know what's possible from a technical perspective, and engineers might just try to go the default way."
It's helped that Herbert's evolution as a snowboarder has mirrored the app's growth. "I'm fortunate in that I only started snowboarding 10 years ago," he says. "It's a recent enough memory that I can put myself in the shoes of beginners. I mean, you're going downhill at 30 or 40 miles per hour — and that's intimidating! And I can remember, 'OK, this is where people just getting into the sport might struggle,' or 'Here's a thing that made me feel really good.'"
Still, a skiing app presents a novel set of challenges, both technical (How do you ensure the GPS is accurately reporting your true location and speed?) and practical (How do you tap a screen while wearing puffy gloves in sub-zero temperatures on a flying bench?).
"The design of Slopes is very much informed by the situation," he says. "For a lot of apps, you're at your desk, or in a car, or on the train… on a lift, you're 100 feet up. You don't necessarily want to pull your phone out and fumble with it. So for me, there has to be a lot of thought about: What are the main interactions that really need to happen, and what device is the best to do that with?"
The iPhone app's record button, for instance, is mirrored on the Apple Watch app, which is more accessible on a lift or in a line. "A lot of interaction design is thinking holistically about the ski experience," he says. "To me, having a great experience means: Does the thing on screen react the way I'd expect it to? Can I physically interact with this digital concept? Does it feel real?… Not in a skeumorphic way, but in a 'can-I-manipulate-it?' way."
On a lift, you're 100 feet up. You don't necessarily want to pull your phone out and fumble with it.

Curtis Herbert
Beyond Slopes's people-friendly interface and powerful stat-tracking, Herbert is particularly proud of the app's 3D mapping support for resorts and runs. "Skiers and snowbarders think in 3D," he says. "Going into this, one of my big ideas was the ability to look back at my runs and see the 3D profile. I don't want to have to assemble the puzzle. I want to see, 'Oh, here's where I went really fast,' or, 'Here was that really steep turn.'"
The skiing apps he'd used prior to creating Slopes only offered top-down or side-profile views, which was workable — but ultimately lacking. In part, there simply weren't great data sets for resorts, runs, and lifts.
So Herbert turned to GPS data to help. He'd already planned to offer the full Slopes experience even if someone only had GPS enabled, as cellular connectivity could be dicey in the backcountry. "[So] we had to figure out how to pull that data and translate in 3D," he says. With no 3D experience to speak of, Herbert taught himself SceneKit to create the feature.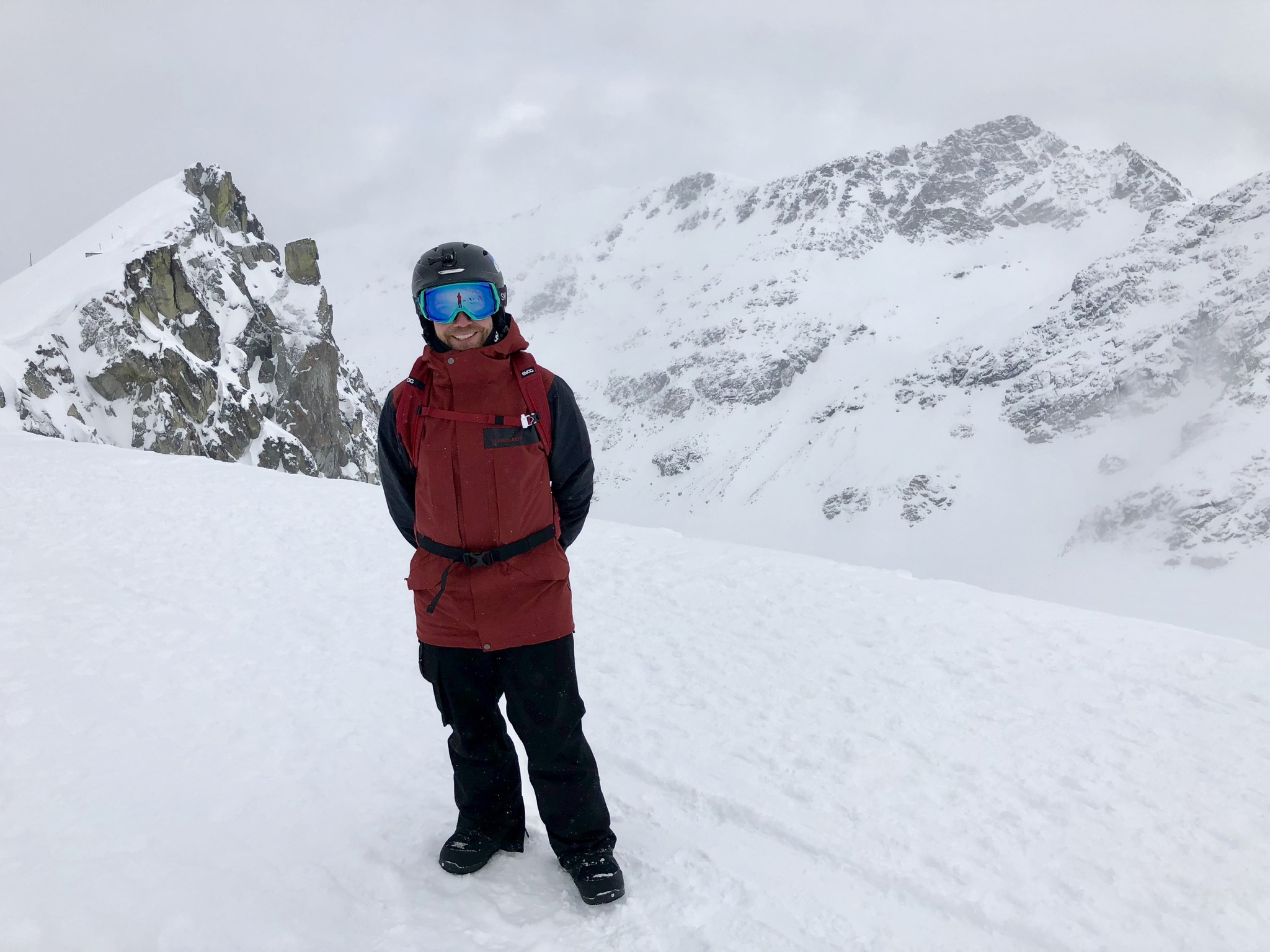 This summer — nearly a decade later — Herbert and the growing Slopes team are expanding their mapping offerings to help you better locate your friends and family during a ski trip; with an Apple Maps-esque interface, the app will show you the routes — easy and hard ones — between you and your friends.
Here again, the human element comes into play. "There can be a lot of intimidation about going somewhere for the first time," he says. "You might look at a map and say, 'Am I gonna be able to get back here? Am I gonna end up going off a cliff on a double-diamond?' I think this'll take the edge off for a lot of people."
In recent years, Herbert and the team have focused more on those collaborative features to bring people together. "I hear from a lot of families who've used it to get their sons or daughters into skiing. I'll hear about people trying to beat their mom at a top speed — and I don't encourage racing on the mountains! — but it's fun to hear that it's bringing families together."
(It can also bring you closer to the developer; Herbert makes his location public when skiing; you can find him to say hi and get that pin. "It's basically Where's Waldo," he says with a grin. "It makes for good stories.")
But it turns out that goes for his own family too. "My niece recently learned to ski at Killington, so I said, 'Here, put this phone in your pocket.' And she lit up at the end of the day, like 'Look how far I went!' It's hard to get that perspective until you see it with numbers on a map, especially if you did much more than you thought. Hearing that it brings people together at the end of the day, sitting around the fire comparing stats, making a sport that I love more enjoyable to people — that's the best stuff."
Download Slopes from the App Store
Behind the Design is a weekly series that explores design practices and philosophies from each of the 12 winners of the 2022 Apple Design Awards. In each story, we go behind the screens with the developers and designers of these award-winning apps and games to discover how they brought their remarkable creations to life.
Powered by WPeMatico