Halide Mark II's Sebastiaan de With is an analog guy in a digital world. As co-founder and creative lead at Lux Optics — the company behind the Apple Design Award-winning camera app — de With is no stranger to design or digital photography. But he's also a big fan of falling off the grid.
"I love grabbing a pen and a notebook, going into the woods, and drawing and drawing," de With says.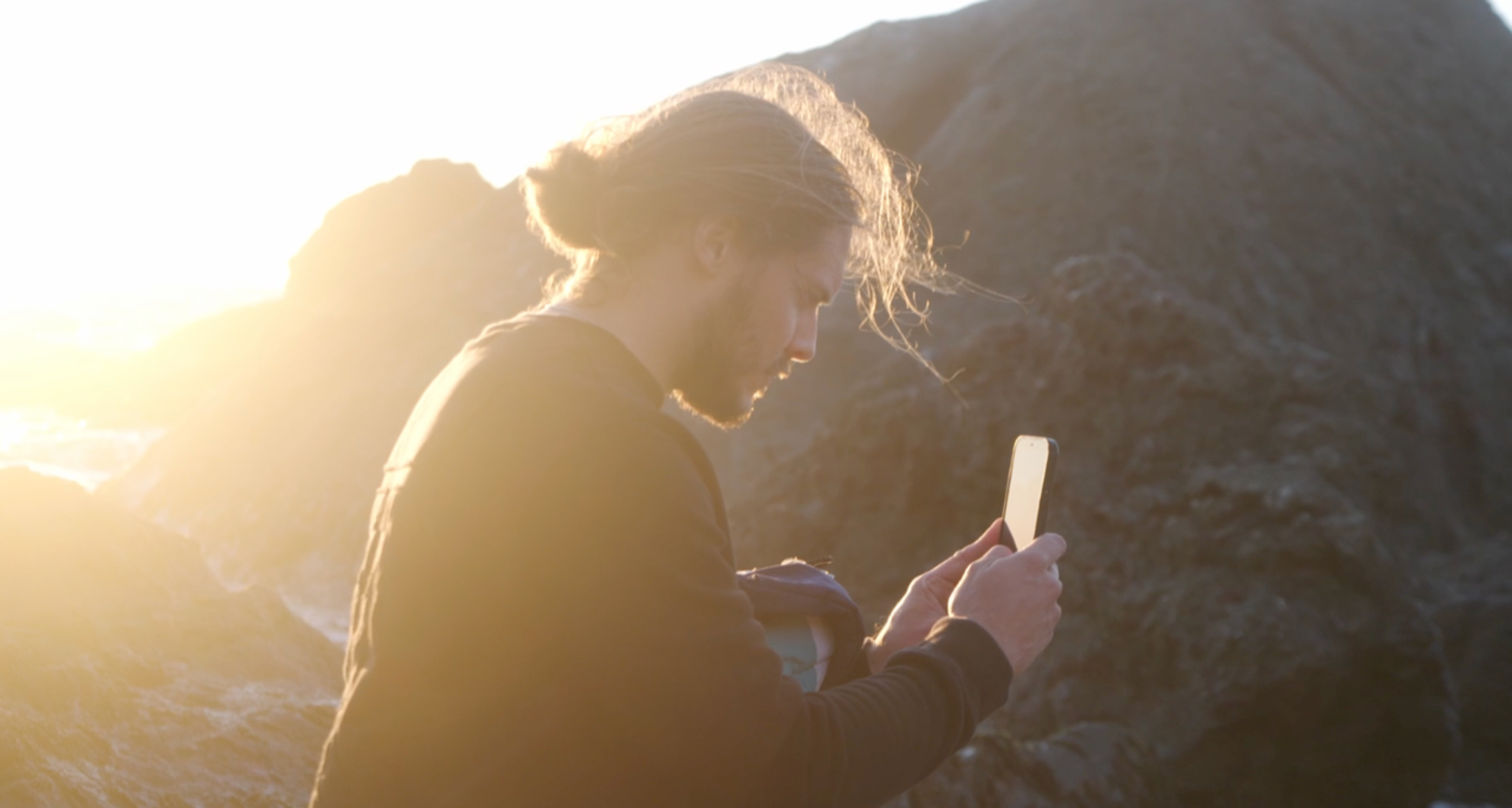 Lens flair: Halide's Sebastiaan de With designed the minimalist camera app to offer "excitement without intimidation."
That dual passion for analog art and digital design shines in Halide Mark II, an app that combines the power of a modern DSLR with the joy and beauty of a classic manual camera. "Cameras are just so fun to use," de With says. "Give a child a camera and they'll play with the aperture ring and the dials and the switches. I thought, 'Maybe we can bring a semblance of that delight to an app on a piece of glass.'"
---
Behind the Design is a weekly series that explores design practices and philosophies from each of the 12 winners of the 2022 Apple Design Awards. In each story, we go behind the screens with the developers and designers of these award-winning apps and games to discover how they brought their remarkable creations to life.
---
Packed with pro-grade features but accessible to those learning their way around ISO settings, Halide beautifully strikes a balance between the professional and the practical. And its uncluttered, beautifully-organized feature set means that even high-end settings like depth mode and histograms are never more than a few taps away. "We didn't say we made an app," says de With. "We say we made a camera. That was a philosophical underpinning of everything we did."
de With and Lux Optics co-founder Ben Sandofsky know a thing or two about cameras. They bonded on social media over their shared love of photo gear, and a partnership soon followed: The duo released the first version of Halide in 2016, aiming to capture the accessibility of Apple's camera app while providing easy access to advanced features. "The complexity is there," says de With, "it's just not going to overwhelm you. When you're offered a somewhat accessible way into this world, it can kindle excitement without intimidation."
Halide provides both pro-grade manual controls and powerful autofocus settings.
That philosophy was a key factor in recruiting Lux Optics's third team member, iOS developer Rebecca Slatkin. "I really admired — and aligned with — their pragmatic approach to software development," she says. "They weren't reinventing the wheel. It was all simplicity."
While Slatkin had grown up around photography, her camera usage had been far more casual than either de With's or Sandofsky's — but that perspective brought even greater accessibility to Halide for people across all skill sets. "You know in bowling, where they put bumpers in the gutters to make sure you at least hit a pin?" says Slatkin. "We support [people] like that. No matter your background, you can take a great photo."
To translate this ethos to interface, the team designed the app's controls to largely stay out of the way. "Other camera apps looked like flight simulators with lots of dials, which was intimidating, even for someone like me who loves film cameras," de With says. "A camera is an extension of your body, and it works best when it creates muscle memory. We need to have consistent gestures. We need to be flexible without changing buttons around all the time."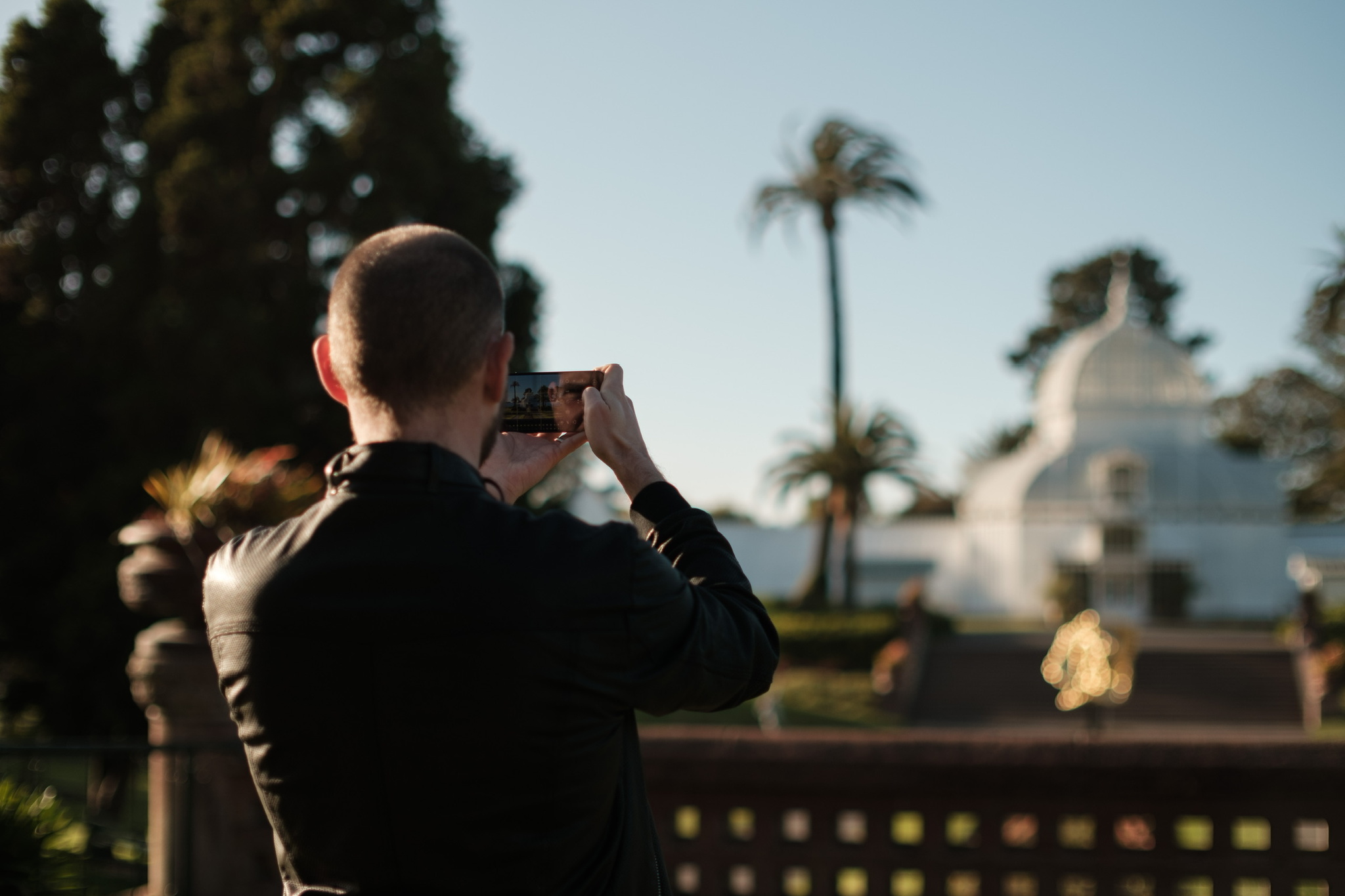 Halide's Ben Sandofsky — seen here testing the app firsthand — connected with de With over their shared love of photo gear.
Color, too, is used carefully and deliberately in Halide, with a single yellow highlight color (another homage to classic cameras) used to indicate active state for a feature. When the team was redesigning Halide in 2020 for its Mark II release, however, they discovered that color wasn't always enough to help someone identify what tools they were using — a lesson Slatkin learned the hard way when trying to experiment with the app's RAW feature.
"I remember I went to the Adirondacks and took all these photos, and was excited to show Sebastiaan and Ben and my dad," she recounts, "and I got back and none of them were in RAW — because I thought the deactivated state was the opposite." While frustrating, the real-world test helped the team update the feature's button design to better reflect each individual mode when selected.
Halide's powerful macro mode is always just a few taps away.
The team's focus on simplicity for Halide goes beyond interface design — they also bring it to the design and implementation of their advanced camera features. Take their approach to RAW photography: While pros may love working with uncompressed images because it offers them more color data to manipulate, RAW processing can often be confusing and time-consuming for first-time photographers. In response, the team developed Instant RAW, which uses machine learning to help people shoot and process RAW images instantly. "It's all about what you create," says de With. "So we thought, 'Let's just skip to the part where you create nice photos.'"
Sometimes, the team builds features that grow beyond Halide itself. Spectre Camera, a machine learning-powered long exposure app and the App Store's 2019 App of the Year, was one such project; the team is also currently hard at work on Light Forecast, an app that uses machine learning and predictive models to alert you when a particularly picturesque sunset is coming up. (You might have caught a peek in the WWDC22 keynote.) Originally conceived as a Lock Screen widget, the app has evolved into a passion project for Slatkin.
"As I was learning photography, I was trying to become more aware of light and golden hour," she says, "and I found that being able to predict cloud coloration, sky coloration, and air quality makes a huge difference." She's spent the past several months collecting data, partnering with weather services, and tracking 30 webcams all over the country. "I've learned that we've been sleeping on some really good sunsets," she says.
Rebecca Slatkin and de With often find themselves learning from their own app. "I find myself being a lot more observant about my surroundings," says Slatkin.
That experience — and that unexpected delight — is what Lux Optics hopes people get out of their apps: the sense that cameras, even the complicated ones, are accessible to anyone with a device and a scenic location. "I hike a lot, and I find myself being a lot more observant about my surroundings," says Slatkin. "It's made me appreciate the beauty of things I wouldn't have noticed before."
Simply put: You don't need be to a pro photographer to use a pro camera app. "It's a lie to say that some people have a creative gift and some don't," de With says. "Everybody has a unique perspective on the world. We hope we can help people discover theirs."
Learn more about Halide Mark II
Powered by WPeMatico