Generally speaking, weather apps don't threaten your life.
They don't insult your life choices. They don't tell you that the sun makes your skin look, and we're quoting here, "like curdled oatmeal." And they rarely, if ever, try to conquer the world.
Carrot Weather does all three — pretty much on a daily basis. But that's not the most interesting thing about the meteorological marvel created by mild-mannered Philadelphia native Brian Mueller. Prior to launch, Mueller had no background in development, less background in meteorology, and frankly seems way too nice to have won an Apple Design Award with an app that routinely calls those who use it "meatbags."
No, the most interesting thing is this: Underneath his humble (and objectively non-murderous) exterior, Mueller knew that meme-worthy jokes wouldn't be enough — Carrot had to be a best-in-class weather app, too.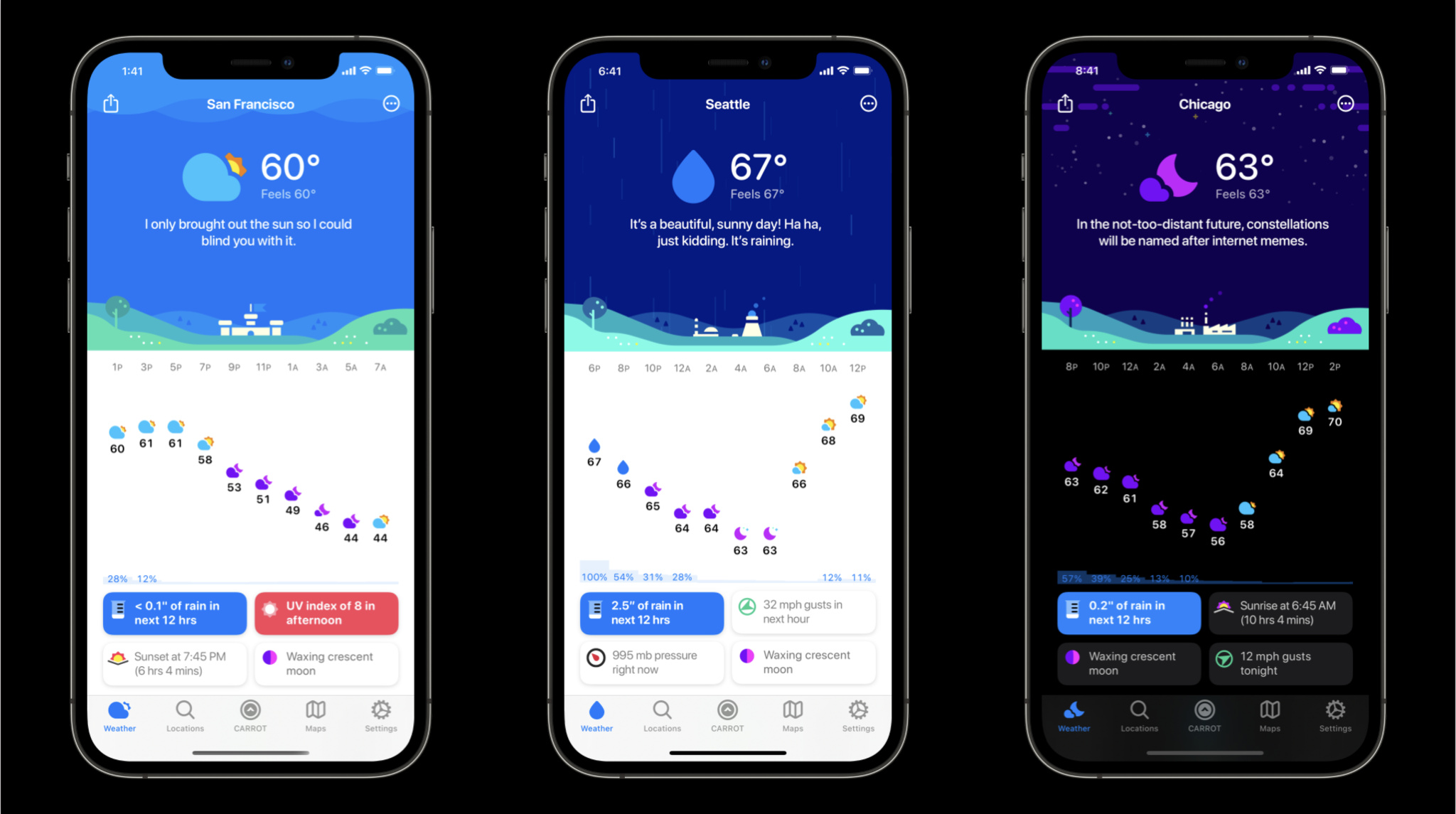 "There are basically two apps here," says Mueller, who codes, designs, illustrates, and writes the (often real-time) gags himself. "One is an entertainment app — something you want to open apart from learning about temperatures and conditions. The other is a professional weather app. I wanted both."
He got them. Carrot Weather presents its meteorological metrics — humidity, UV index, and sunrise and sunset — in splashy, colorful screens that match its acerbic voice. ("Does the sun really think he can hide? We see you behind those clouds, stupid star.") The app is available on for iPhone, iPad, Apple Watch, and Apple TV. And earlier in 2021, Mueller released an update that lets users customize Carrot however they please, creating, in essence, a "Choose Your Own Weather App" experience (albeit one that occasionally threatens you with scary clowns).
It's a long way to go for a guy who started developing on the side seven years ago while pursuing a full-time career as — not entirely surprisingly — a screenwriter. "I'm an English major with a creative writing minor," Mueller says. "I love to write and create characters and tell stories, but I had no real idea of what I would do with my life." He found the idea of apps intriguing, but had no experience to draw from. "I figured if I was going to build an app, I'd just hire someone to do it for me," he says. "I got a book on iOS development, mostly so I could flip through the vocabulary and not sound like a complete idiot. But it wasn't anywhere near as over my head as I thought, so I just started building."
In a matter of months, Mueller had his first title, a to-do list app called Grailr whose mascots were an Indiana Jones-type character and his cartoon dog sidekick. "The dog's name was Sir Waffles, and he had a top hat and monocle," Mueller laughs. "I liked him. But it was way too hard for me to animate a cartoon dog."
Instead, he popped into Photoshop, drew a simple pattern of three circles, and then began playing around with animation, eventually landing on a nefarious-looking pulsing red light drawn straight from the HAL and GLaDOS school of evil sentient robots. "There was no genius idea," he says. "That was basically the extent of what I could do in Core Animation in iOS at the time."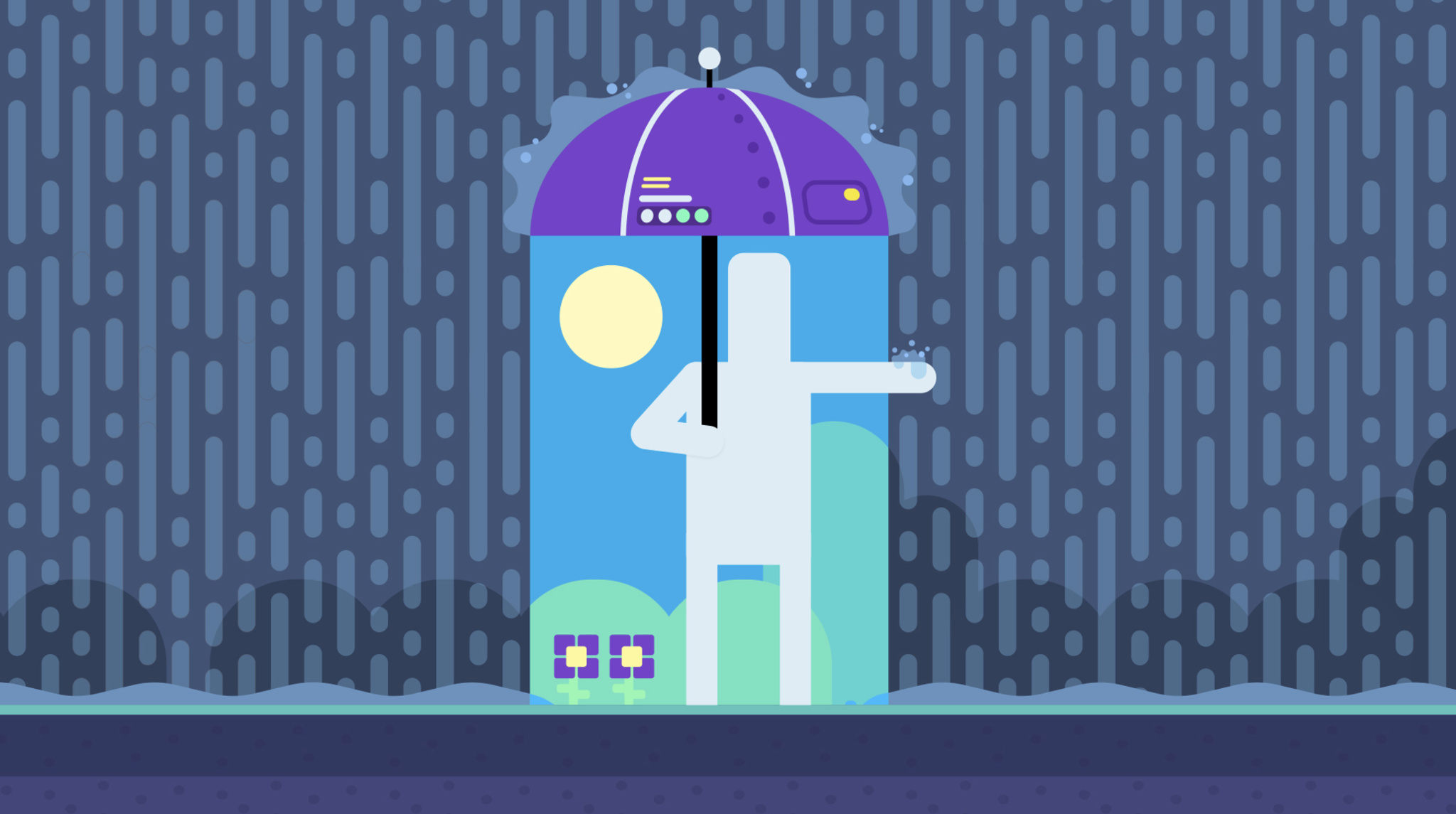 This necessity became Carrot's look. Her dark, devious personality, however, comes from those closest to Mueller: his mom, sister, and wife — all of whom tease one another relentlessly. (Sister Beth, for instance, commemorated Carrot's Apple Design Award win by emailing him the following: "You're probably getting lots of congratulatory messages, so I just wanted to remind you that you are the worst.")
"A lot of the dialogue for Carrot is drawn out of stuff that we've actually said to each other," he says. "Every time my wife says something funny, I write it down. Sometimes she gets annoyed by that, but she's a lot funnier than I am."
With his robot ready, Mueller began releasing a series of apps — Carrot To-Do, Carrot Fit — all with the same distinct approach to motivation. His to-do list yells when you fail to complete a task. His alarm clock mocks you for sleeping in. His fitness app shames you for slacking off.
Weather was a logical next step. Carrot Weather began strictly as an entertainment app — one that leaned in entirely on Mueller's digital doppelganger. "It was a cool, gimmicky kind of thing, and people liked it," he says. But over time, people started asking for more metrics: cloud cover, wind speed, pressure. Data, data, and more data. "I'd spend an hour or so sketching and figuring out how to fit things in," he says. "That's how I started learning how to solve design challenges."
The inaugural version of Carrot Weather focused almost entirely on the current temperature; the second version began to dig in on forecast, radar, and notifications. But its next redesign was a big one: The 2017 model brought Carrot to Apple Watch, which Mueller says was the "turning point" in transitioning the app into something more than a repository of jokes.
"I couldn't really have long jokes on the Watch, so I had to focus on making a really good weather app," he says. "I started over from scratch. I tried to use all of the hardware features built into the Watch as much as possible to abstract away a lot of what would normally be visual in the interface on the iPhone."
Mueller focused the experience on a few key data points and used color to communicate weather conditions so that people could quickly get a sense of their forecast. From there, he worked in reverse, bringing his favorite features back into the iPhone and iPad app.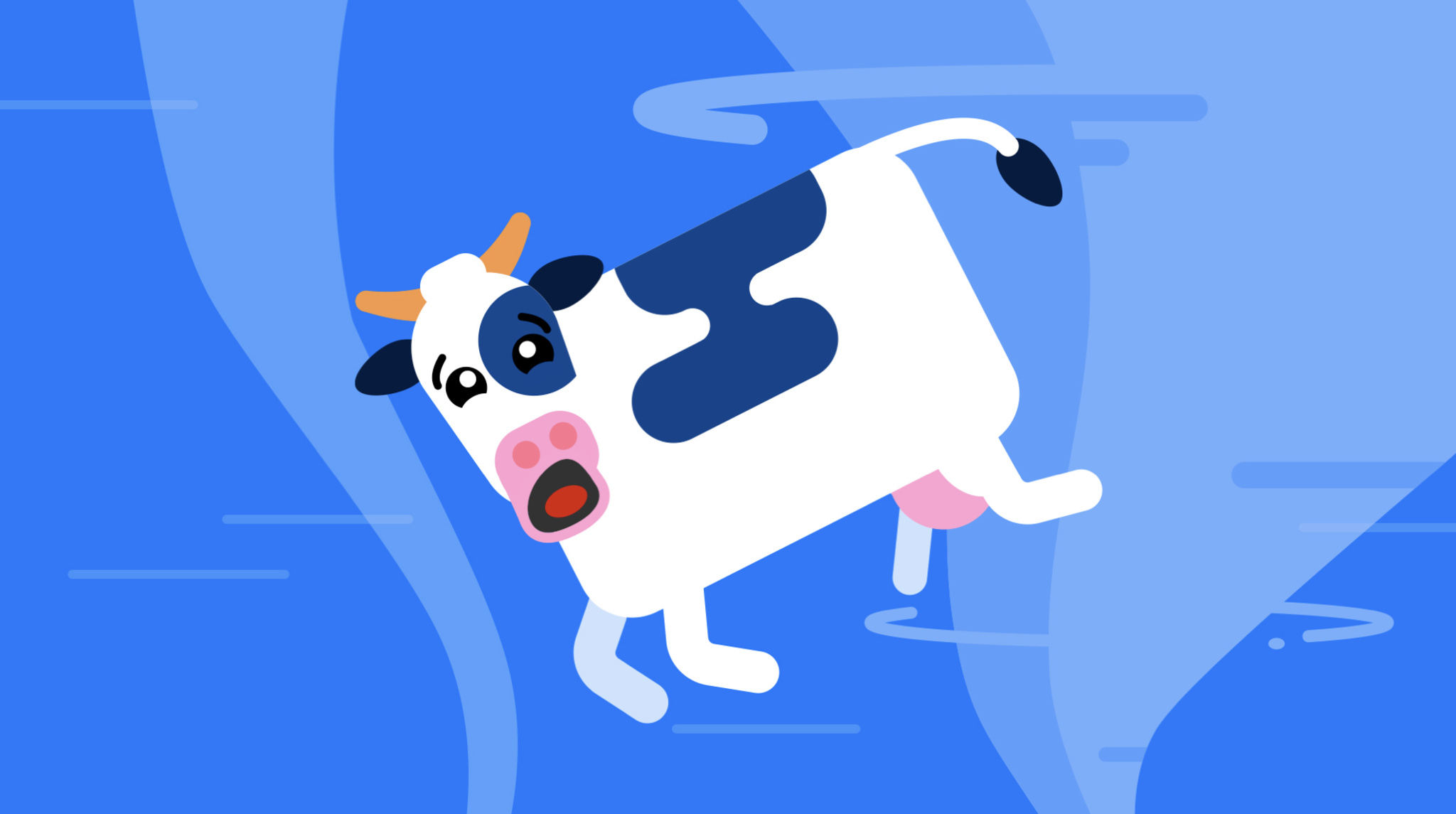 Today, the Carrot universe comprises seven iOS apps and an iOS sticker pack, as well as Apple Watch, Apple TV, and Mac versions of Carrot Weather. The app now offers a fully customizable interface for those who want to craft their perfect weather app. You can record customizable weather reports replete with sassy teleprompter dialogue, or have Carrot taunt you in augmented reality. (She turns red if you annoy her. You'll probably annoy her.)
There have been upgrades on the sarcastic side too: Mueller regularly updates the app's text to reflect current events, which means he can respond to current events — everything from political headlines to console releases — within minutes. "People are tweeting me all the time how they get their news from a weather app," he laughs.
And yes, if so moved, you can even mitigate the darker sides of Carrot's personality. "I wanted an option for people who were more interested in the cool professional features — or maybe for the people who don't want the 'Oh, Carrot wants to kill you,' kind of thing" he laughs. "Even if you turn off the personality completely, you'll still get the fun animations and features."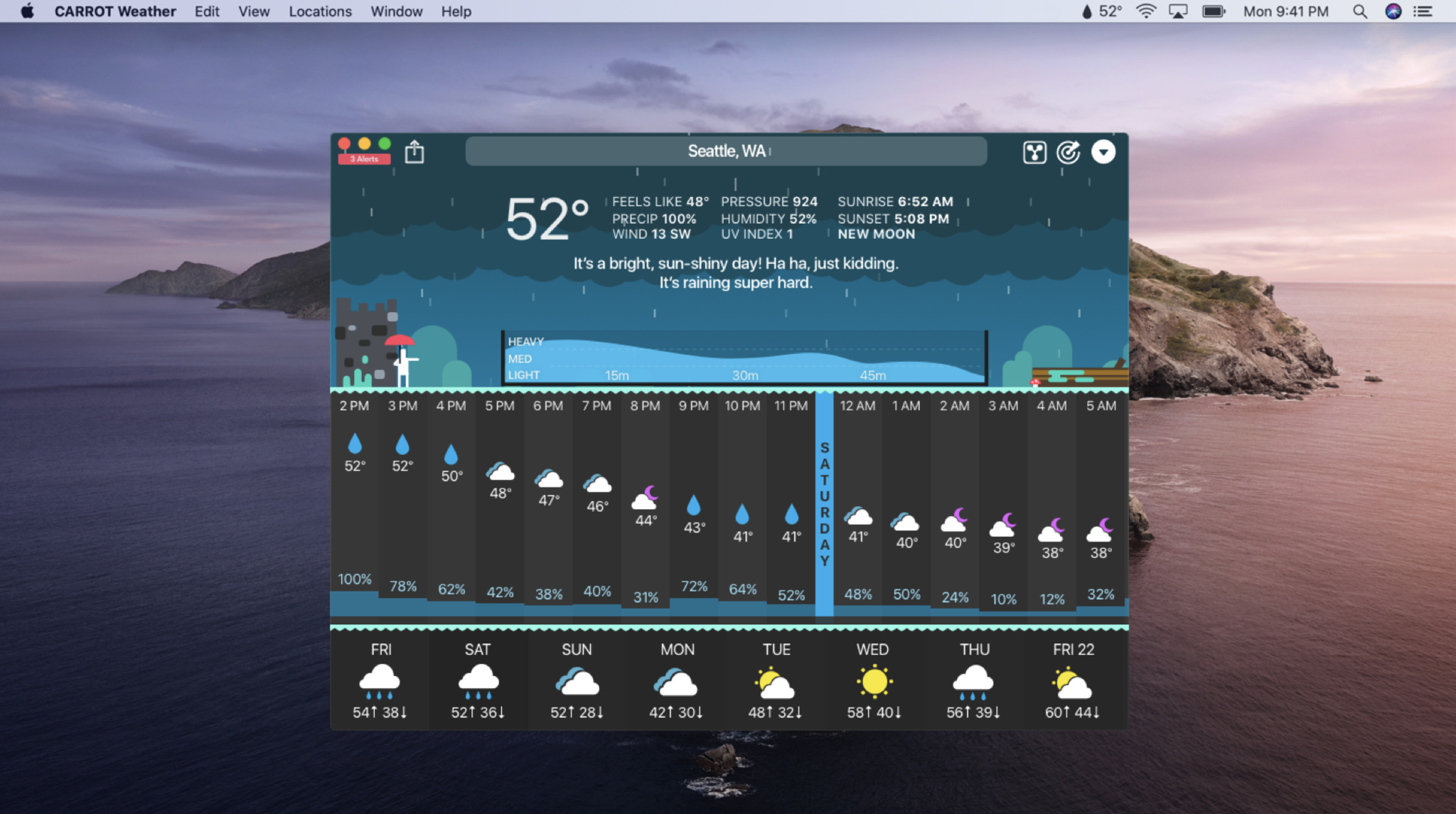 For all his success, Mueller remains humble (even a little bemused) by all this attention. His design process, he jokes, isn't as formal as many of his Apple Design Award-winning peers — it's "basically throwing a bunch of stuff on a screen until I don't think it's hideous."
Even so, it's that singular focus and care (and dash of self-deprecation) that makes Carrot stand out. Mueller's constant iteration and exploration — whether he's iterating on interface designs, supporting new API, or crafting a late-breaking joke — keep the app fresh and entertaining long after you've checked the day's weather.
---
Learn more about Carrot Weather
Download Carrot Weather from the App Store
Powered by WPeMatico