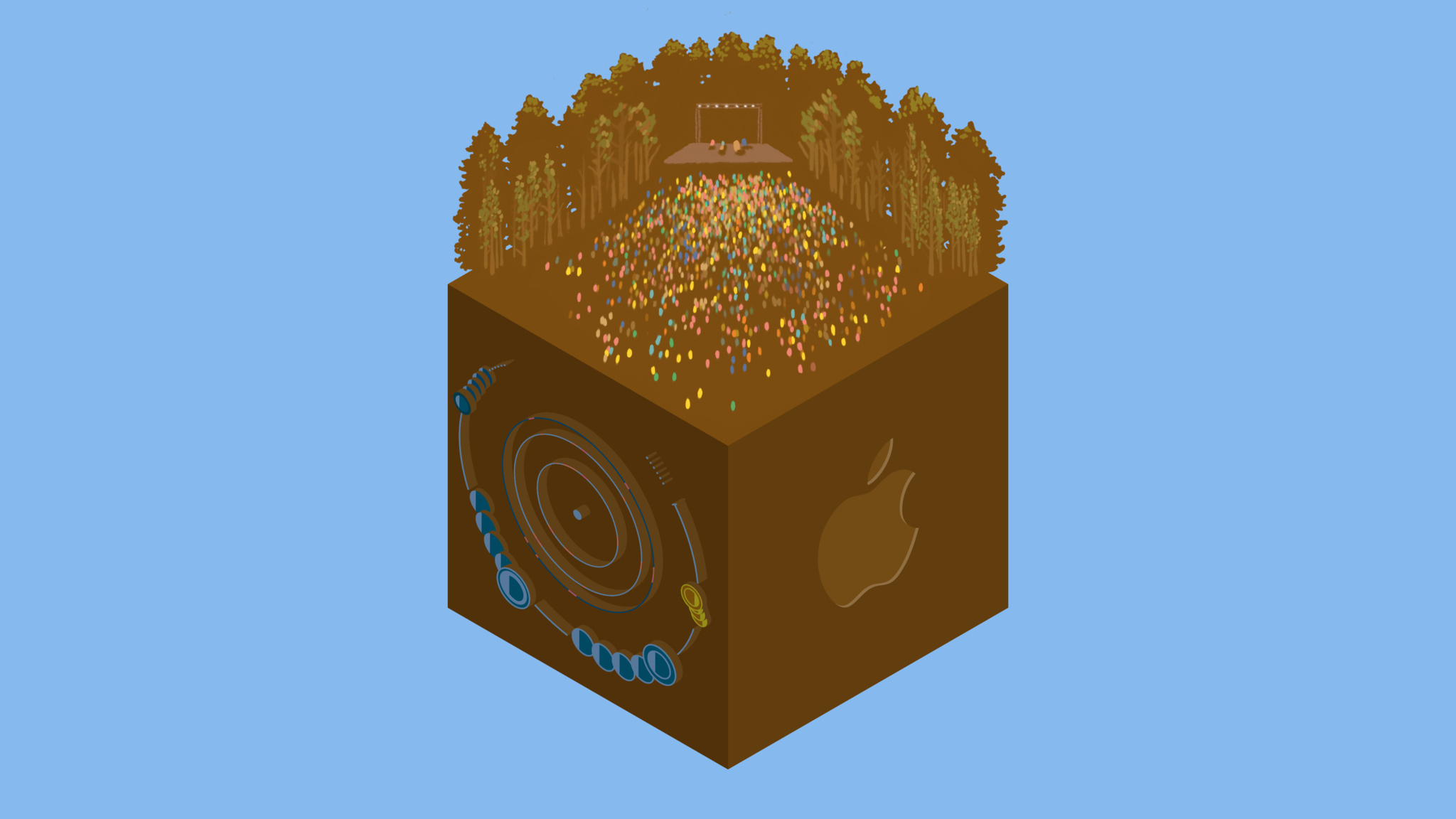 Press play on Charles Bardin's A Musical Story, and you might find yourself traveling back in time.
"It's all about the freedom of '70s music," says Bardin, the French composer/developer who created the Apple Design Award-winning game along with Alexandre Rey, Valentin Ducloux, and Maxime Constantinian. "We were inspired by the sense that, back then, anything could happen."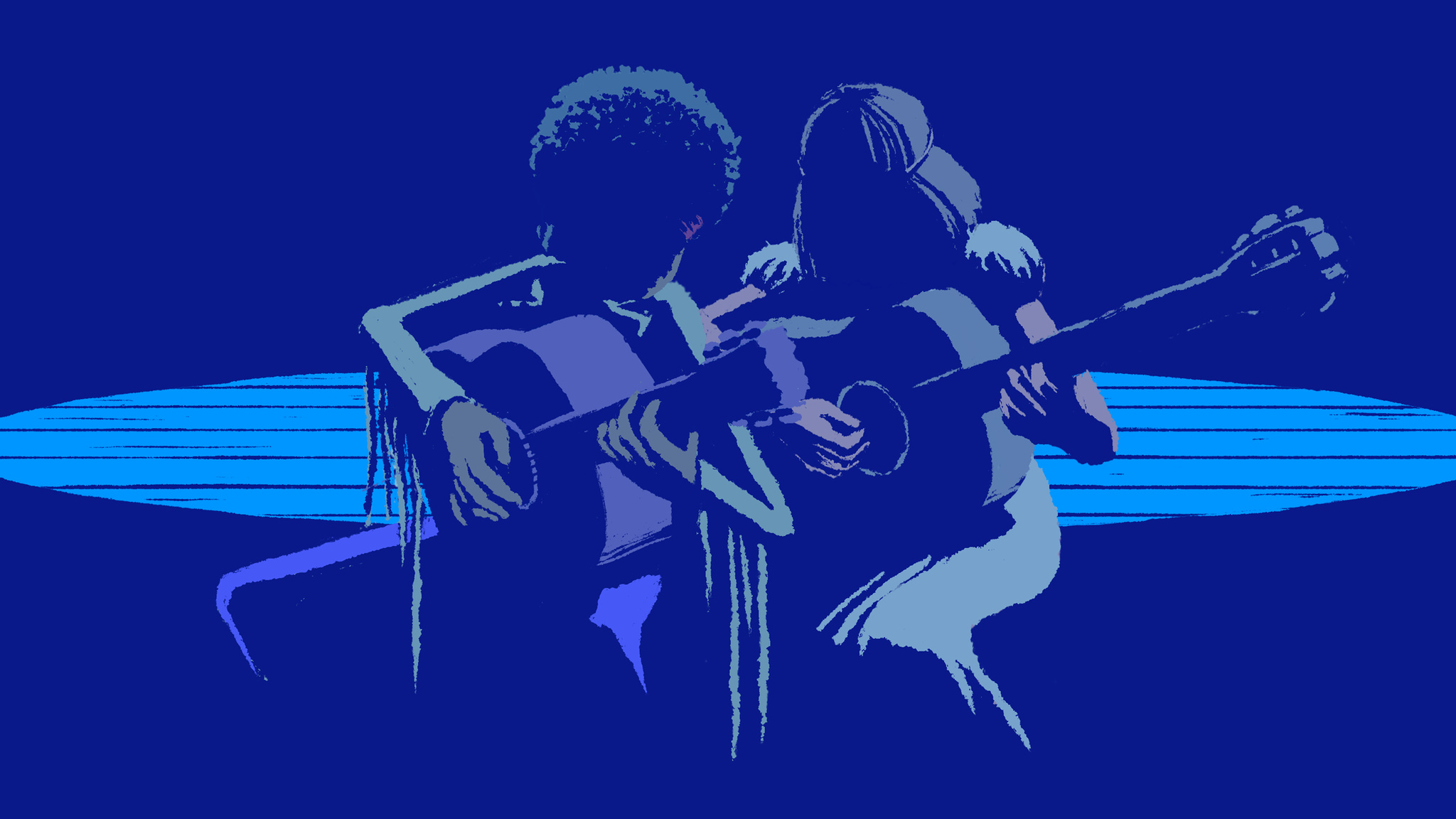 Those initial notes of inspiration led to the harmonious mix of music, narrative, art, and novel gameplay present in A Musical Story. The rhythm game explores the primal, powerful connection between music and memory, following the protagonist as he reflects on moments from his past. It's easy to spot the spirit of the '70s in the story's dreamlike visuals: There are vintage guitars, fashion, and hairstyles aplenty, painted vividly in neon-splashed excess and washed-out color. There are scenes that defy comprehension (at one point, cackling cartoon birds make an appearance). And there's a lot of great music.
While A Musical Story was Bardin's first time designing a game, he's had a lot of experience with the genre. After studying at the Conservatoire de Musique de Lyon, he spent more than a decade creating (and covering) music for games. "In one game, you can mix everything. You can have electronic music with Japanese instruments and African drums," he says. "I love changing things up like that."
Listen to the soundtrack to 'A Musical Story'
In 2014, he launched a YouTube series called After Bit, in which he and his longtime friend and collaborator Ducloux interviewed prominent video game music composers about their craft and catalogs. Just three years later, the two began exploring a different partnership — the as-yet-untitled project that would become A Musical Story.
As longtime fans of rhythm games, the team knew their strengths — but wanted to explore a project that put more emphasis on the music itself. "In most rhythm games, the notes come down on the screen and you play them when they arrive," Bardin says. "I love that, but it's also something you can play without any sound. I wanted [to create] a game that really relied on listening."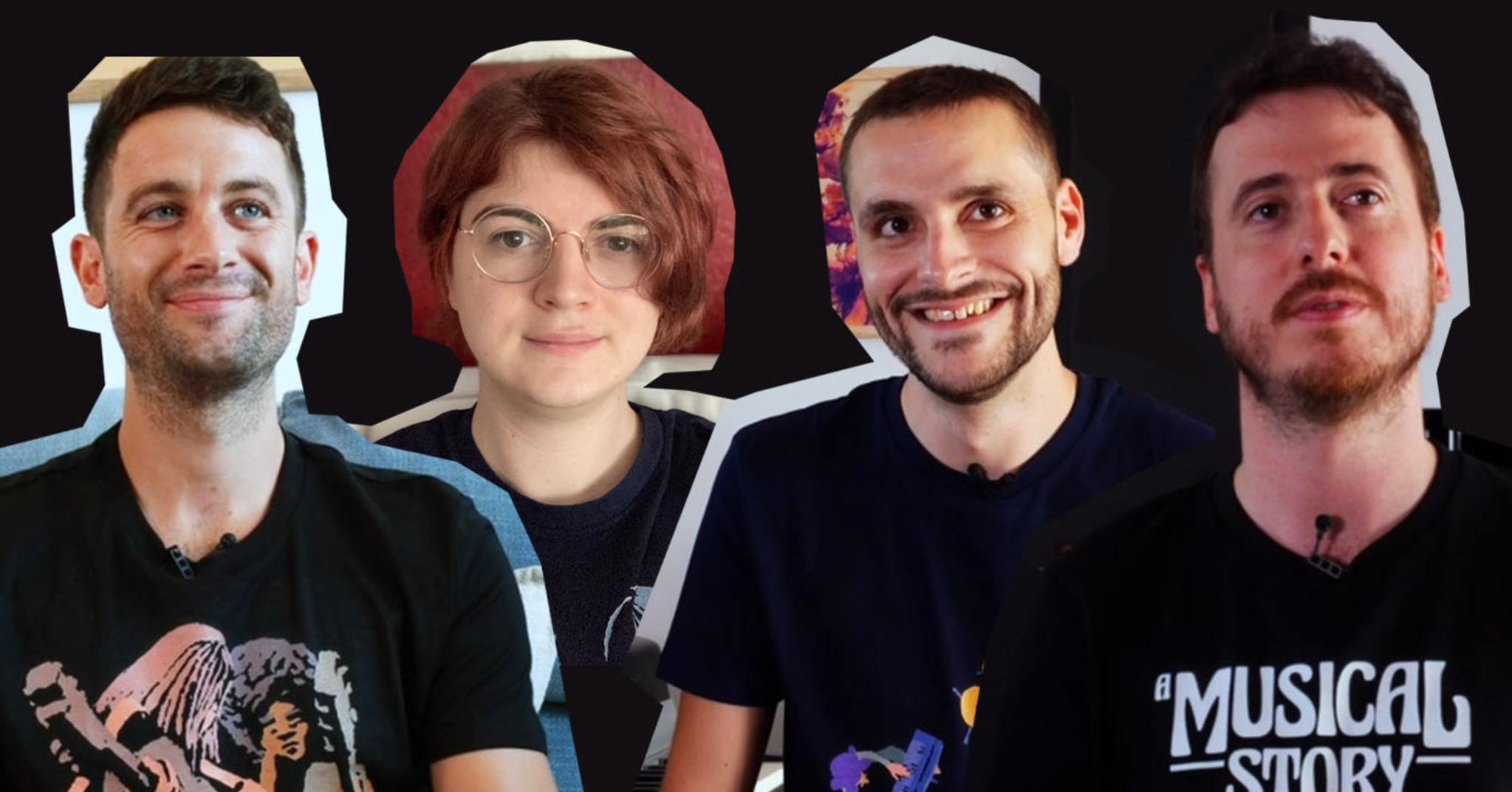 With that in mind, the team began prototyping scenes where the player would play short sequences of music using an intuitive two-button system. The simplified controls helped players focus on the music, rather than placement of their hands or physical patterns they needed to remember.
These explorations also helped define the core narrative of the game for Bardin and the team: What if its mechanics could play into the story? "We thought: Let's dive into a character who's trying to remember something," he says.
Rhythm games aren't traditionally known for their storytelling prowess — there aren't many places to insert dialogue and exposition outside of song lyrics, and it's all too easy to tune those out when trying to accomplish a tricky combo. Instead, A Musical Story uses visuals, musical motifs, and the occasional vocal moment to express an important moment or pivotal scene.
I wanted a game that really relied on listening.

Charles Bardin
For example, early on in the game, you play a song called Her, in which the protagonist "goes to a pub, sees a girl playing music, and instantly falls in love with her," says Bardin. "It begins with just a Rhodes piano and some bass and drums, but as you move closer to the stage, you hear more and more of the music. When you get close enough, you discover her face and her voice."
That voice belongs to singer Priscilla Cucciniello, and the scene marks the only time vocals appear in the game itself (though they reappear in the credits). "We wanted this moment to be powerful," Bardin says. "This is the voice of the most important character in the game."
Listen to 'Her' from the soundtrack to 'A Musical Story'
Each scene has its own distinct combination of music and visuals to move the story forward, but one interface element remains consistent: the circular bubbles you play to create the song in each scene. During their initial story explorations, Bardin was reminded of a French phrase — "bulles de memoire," or memory bubbles. "I always found that term really charming," he shares. It resonated with the rest of the team as well, and its visual representation became a core part of both gameplay mechanics and the overall feel of the game.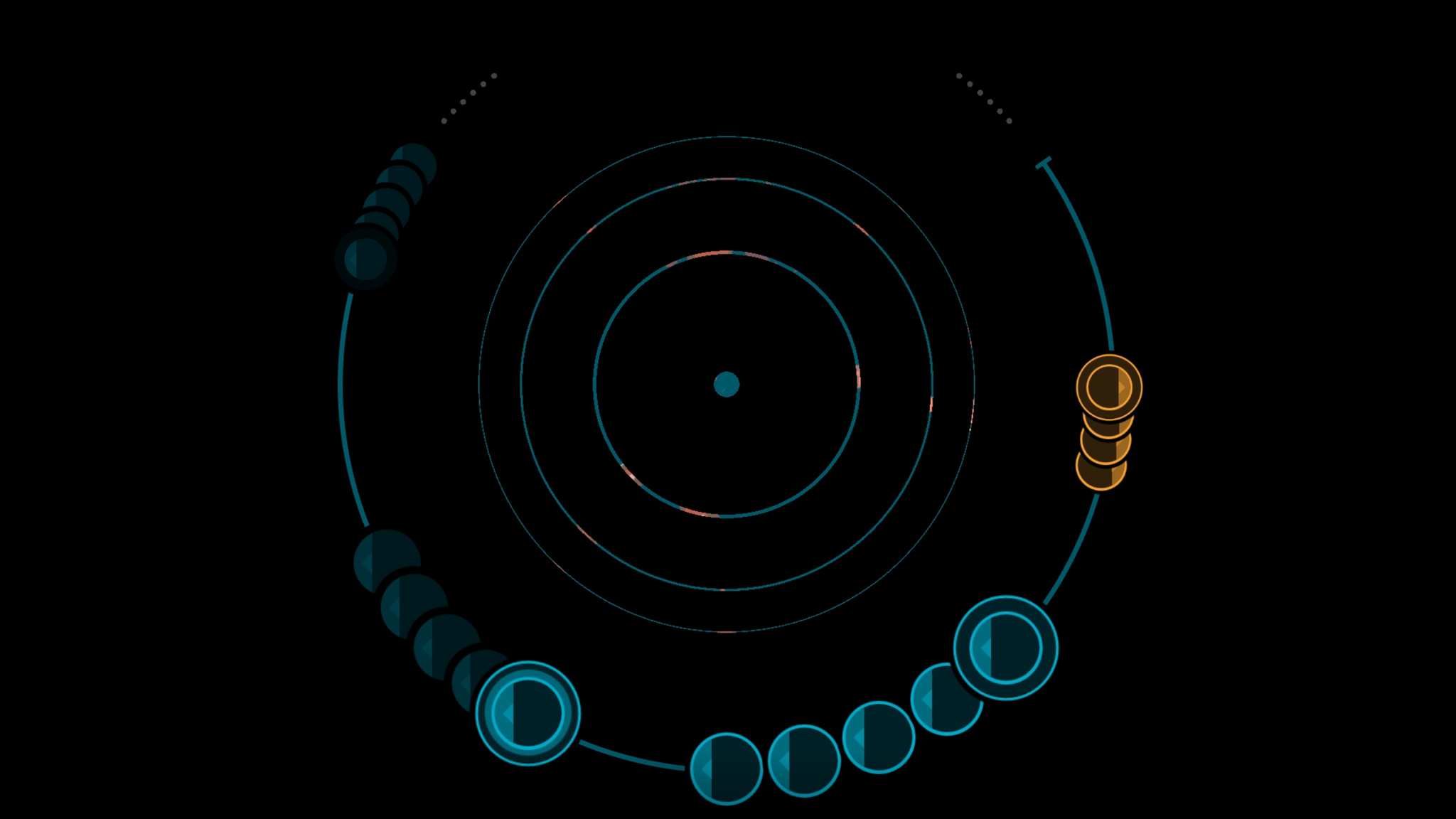 As with the interface, mechanics, story, and visuals, the songs required a bit of a rethink on the traditional structures of a rhythm game. "Musical games tend to rely on electronic or techno music, where the beat is very clear," Bardin says. "We wanted to prove that we could do it with more organic music — something that wasn't quite so thump-thump-thump-thump."
Bardin and team spent a good bit of time shuffling through genres. "We wrote something like seven stories for the game," says Bardin. "We had one version that was more modern, a classical version with more piano, and one that felt a bit more like (the French duo) Air."
In the end, Bardin simply went back to his own record collection, drawing inspiration from '70s heavy hitters like Pink Floyd, Led Zeppelin, and Jimi Hendrix, as well as the endlessly inventive sound of Radiohead.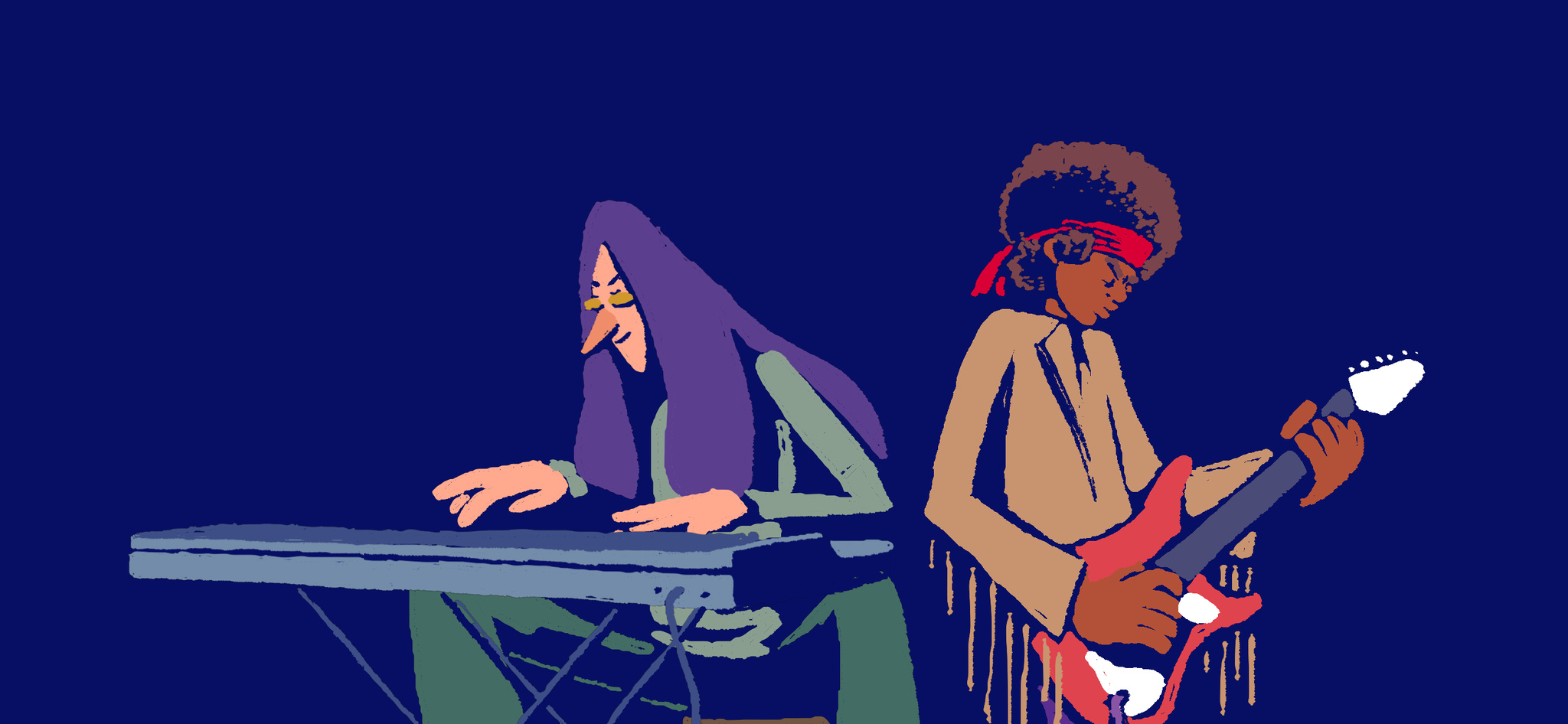 To bring that vibe to the game, he recorded everything but drums on analog instruments: a Fender Rhodes keyboard, Hammond organ, and guitars with big, crunchy sounds. The songs were assembled in Wwise; the rest of the game was built in Unity.
While the music of A Musical Story is designed to tell its story best in concert with the visuals and gameplay, when played back-to-back, the 26 songs form an hour-long concept album. "If you listen straight through, it never stops," he says. "It's one big piece."
Listen to the soundtrack to 'A Musical Story'
But though it was conceived as a whole, the soundtrack has moments that stand out for Bardin and provide the backdrop to especially meaningful moments, like Her. It's the only song in the game to feature vocals — albeit vocals in an invented language, mixing together French, Spanish, English, and Esperanto.
Even if the lyrics are obfuscated, they're still important. "[They] mean something," Bardin smiles, "though I'd never tell what. But if you take the time to understand the story, and what happens when you listen to the voice at the end of the game, you'll get it." For the record, we didn't get the answer from him either. But we're pretty sure it's something that would be meaningful in any decade.
Learn More About A Musical Story
Download A Musical Story on the App Store
Behind the Design is a weekly series that explores design practices and philosophies from each of the 12 winners of the 2022 Apple Design Awards. In each story, we go behind the screens with the developers and designers of these award-winning apps and games to discover how they brought their remarkable creations to life.
Powered by WPeMatico